Books
4 Best Piano Books for Adult Beginners: A Detailed Review and Comparison
In this comprehensive guide, we will review the top-selling piano method books on Amazon and detail their key strengths and weaknesses to help you make an informed decision.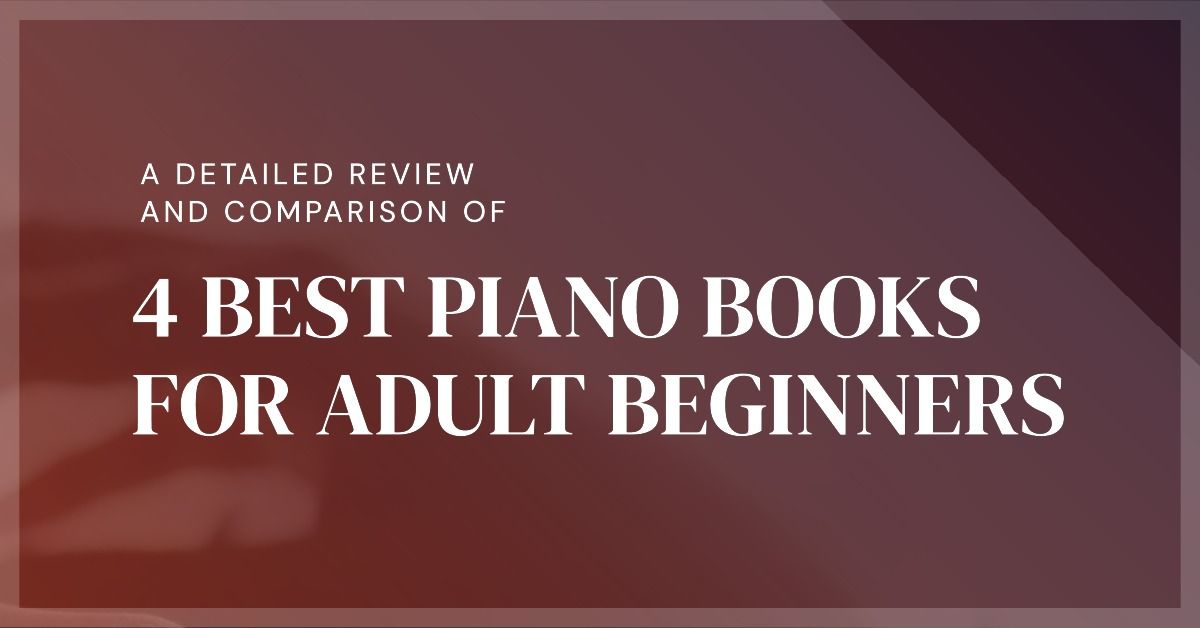 Starting to learn piano as an adult can be an exciting yet daunting endeavor. With so many method books to choose from, it's tough to know where to begin. In this comprehensive guide, we will review the top-selling piano method books on Amazon and detail their key strengths and weaknesses to help you make an informed decision.
Whether you're a complete beginner or returning to piano after years away, selecting the right book is crucial to get your learning journey off on the right foot. A good method book will provide a strong foundation in technique, theory, and repertoire to equip you with skills to continue advancing.
We will be evaluating 4 popular method books using a tailored rubric across 5 categories:
Organization and clarity
Comprehensiveness
Repertoire
Pacing
Expansion
Each category will be scored out of 1, for a total possible score of 5. Let's dive in and review these top picks for adult piano methods.
How to Play Keyboard by Ben Parker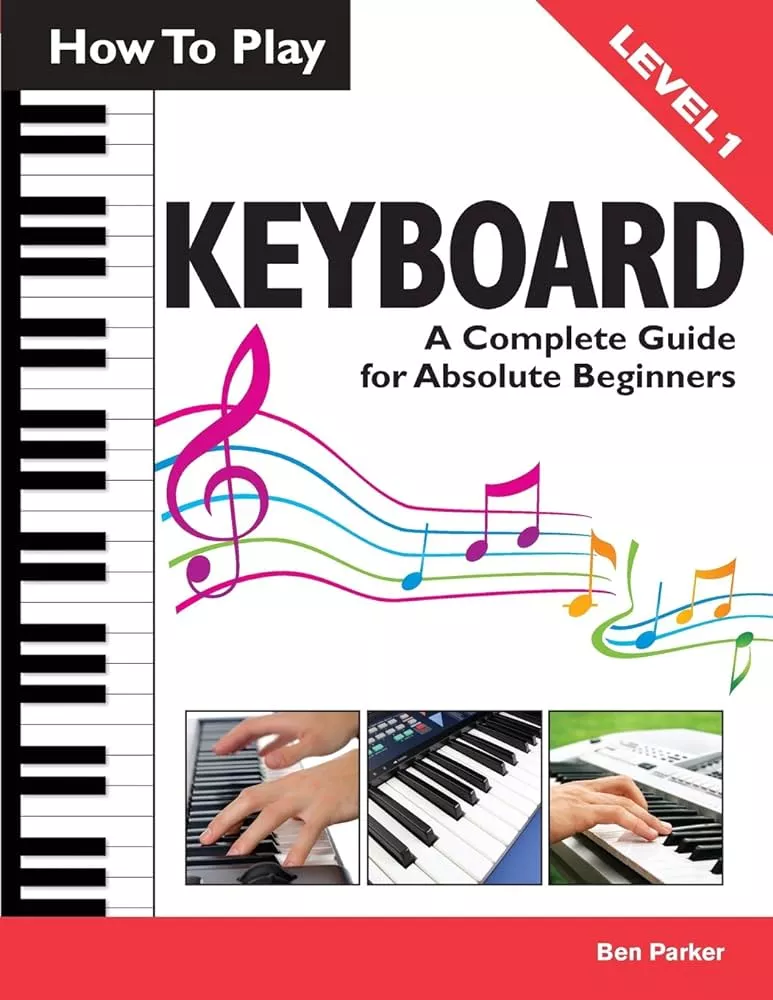 First up is How to Play Keyboard: A Complete Guide for Absolute Beginners by Ben Parker. With over 2,000 Amazon reviews, it's clear this book is widely used by beginning keyboardists. Let's break down our rubric:
Organization and Clarity - 0.4/1
While pages are clean and uncluttered, pictures lack detail for hand position and posture. Boxes highlight new concepts well but font size discrepancies make reading pieces difficult. No practice suggestions are given.
Comprehensiveness - 0.4/1
Covers notes, rhythms, and chords but in a very limited way - just 11 notes in C and A positions. No guidance on technique, theory, reading skills, dynamics, or pedaling.
Repertoire - 0.2/1
Very few pieces with thin textures. Emphasis is on using auto-accompaniment rather than properly notated scores.
Pacing - 0.3/1
Maintains a simple level throughout but gaps in rhythm and technique instruction.
Expansion - 0.1/1
At only 47 pages, a student would need other materials very soon.
Overall Score: 1.1/5
With major gaps in technique and theory, this book lacks the depth required for a strong piano foundation. The emphasis on auto-accompaniment also makes it impractical for acoustic pianos. While good for an ultra-beginner, the brevity leaves students needing supplemental books very quickly.
Piano Book for Adult Beginners by Damon Ferrante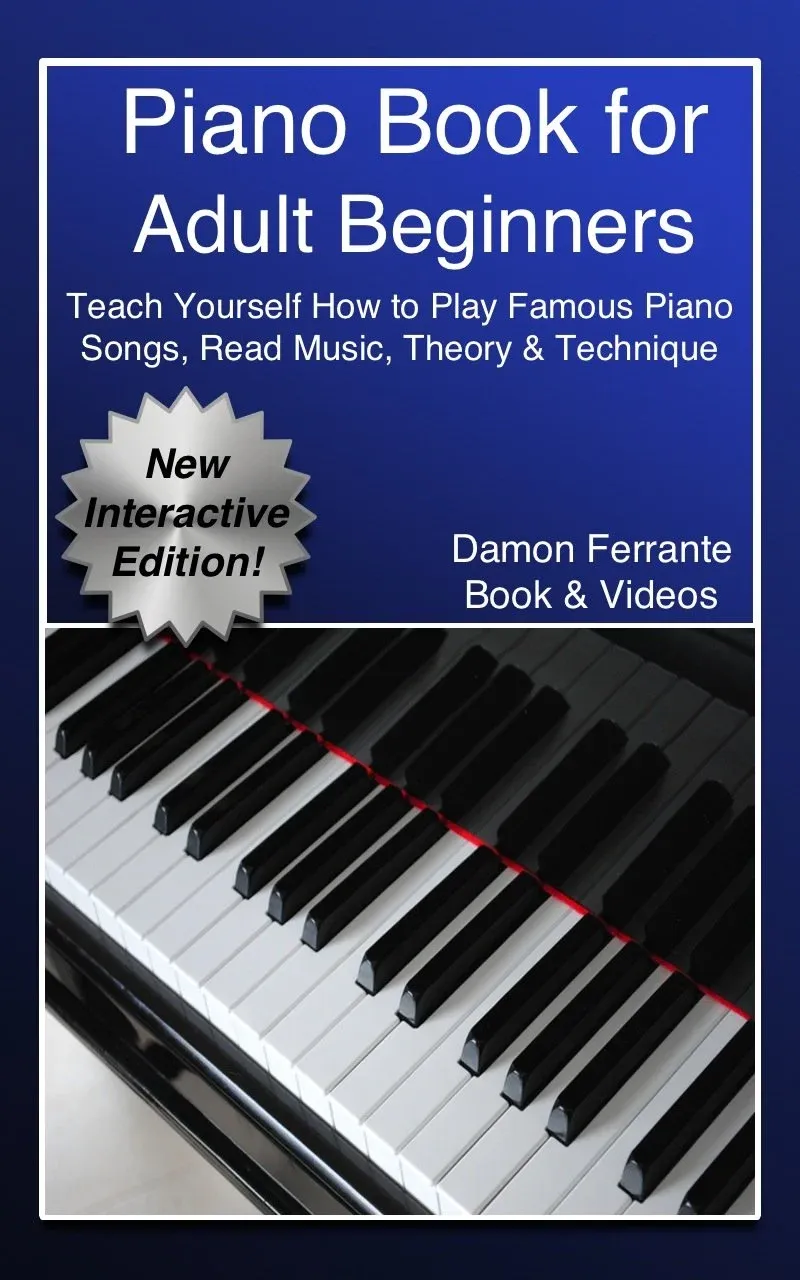 Next up is Damon Ferrante's Piano Book for Adult Beginners, which also has thousands of positive reviews on Amazon. Let's break this one down:
Organization and Clarity - 0.3/1
Pages are very busy and concepts not clearly explained. Pictures lack detail and font sizes are inconsistent.
Comprehensiveness - 0.4/1
Introduces notes in multiple keys and some theory, but very little technique instruction. No specific reading strategy.
Repertoire - 0.6/1
Wide variety of styles like classical, folk, and contemporary pieces. But has many pages of pre-staff reading.
Pacing - 0.1/1
Progression is very uneven - jumps rapidly from pre-reading pieces to advanced classical works. Significant gaps.
Expansion - 0.5/1
At 195 pages, this is the longest book reviewed. However, the pacing issues leave the student unable to play the advanced pieces. Supplements would be needed.
Overall Score: 1.9/5
This book covers a wide breadth of repertoire and theory but lacks continuity. The inconsistent pacing undermines its usefulness, along with minimal technique guidance. An adult student would likely find it confusing and need additional materials to fill gaps.
Alfred's Basic Adult Piano Course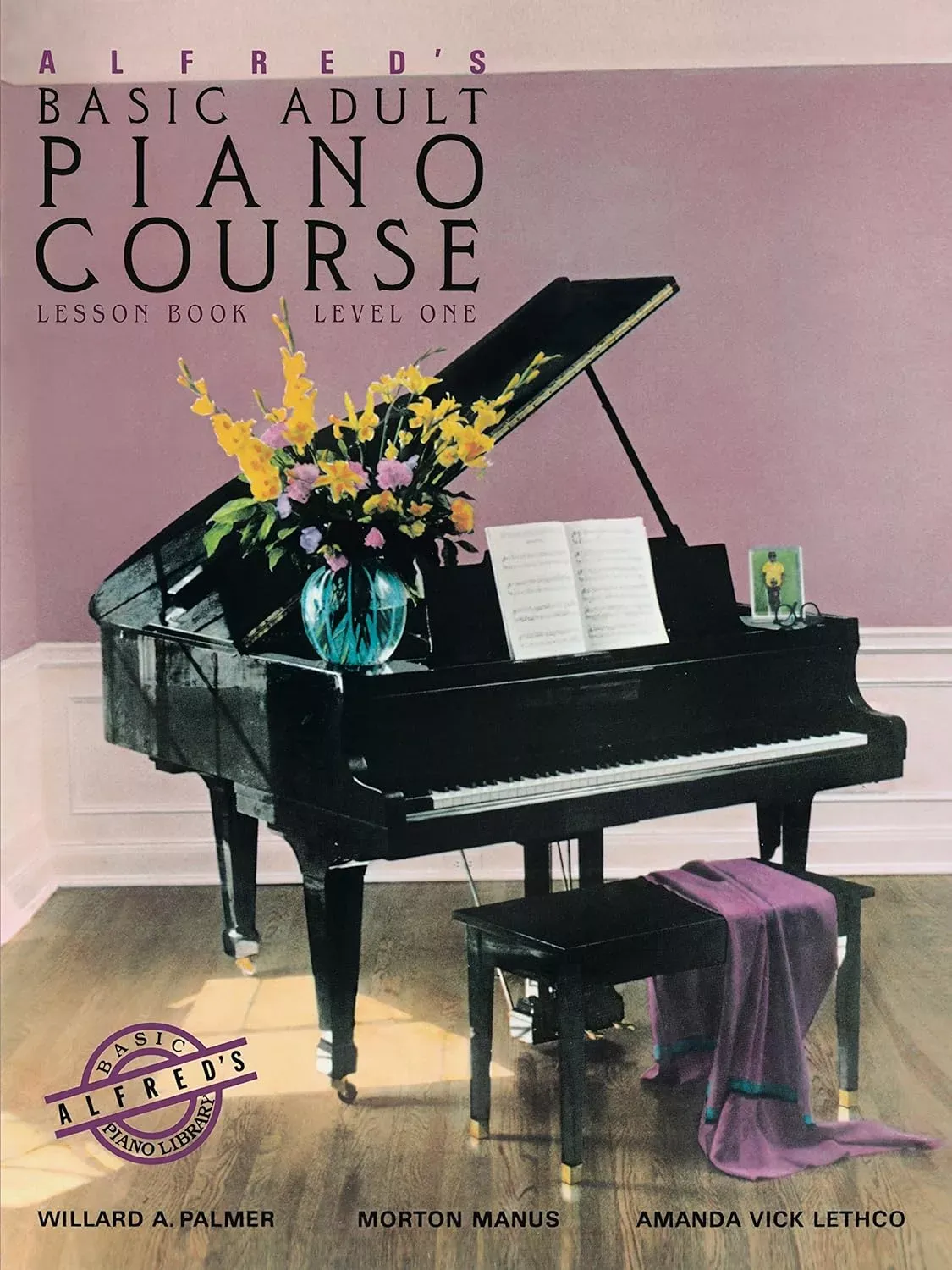 Alfred's Basic Adult Piano Course is one of the best selling piano methods ever published. Let's see how it scores:
Organization and Clarity - 1/1
Pages are beautifully designed and easy to follow. New concepts are clearly highlighted. Includes practice tips and suggestions.
Comprehensiveness - 0.95/1
Covers all key areas - notes, rhythm, technique, theory, reading skills, improvisation, and more across several keys. Introduces pedaling.
Repertoire - 0.95/1
Balanced mix of original tunes, folk songs, and popular music. Good progression in difficulty with appealing, musical pieces.
Pacing - 1/1
Carefully paced and progressive without gaps. Each piece reinforces new technical skills.
Expansion - 1/1
159 pages gives 6 months to a year of study. Part of a full series with theory, technique, and holiday supplements to continue.
Overall Score: 4.9/5
This book lives up to its reputation as one of the best rated methods. The exemplary organization, pacing, and technique foundation provide adult students with a comprehensive course. While no book can replace a teacher, Alfred's is highly comprehensive.
Adult Piano Adventures by Nancy and Randall Faber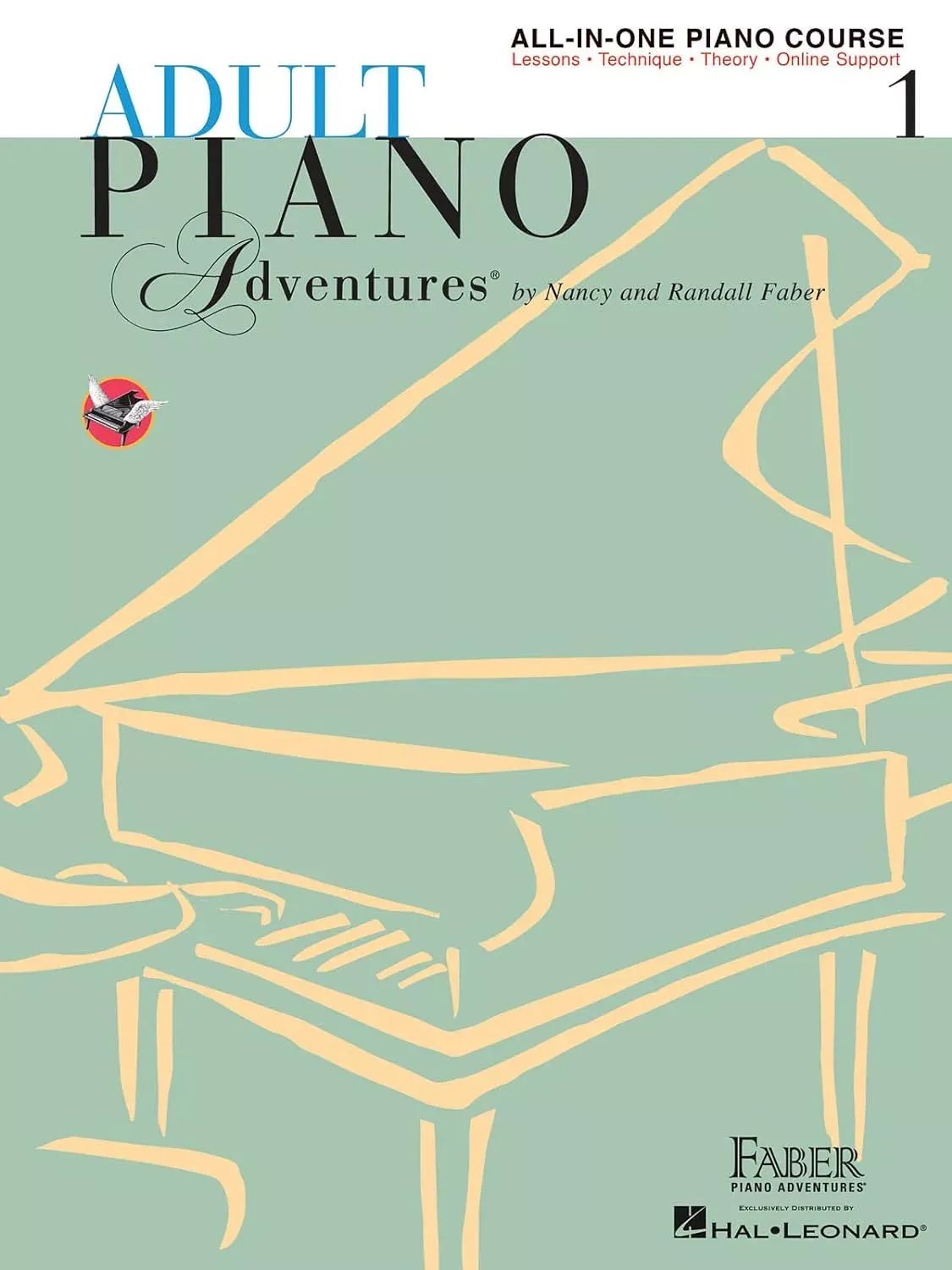 Finally, we'll examine Adult Piano Adventures by Nancy and Randall Faber. As an extension of their acclaimed Piano Adventures series for kids, this method is especially popular.
Organization and Clarity - 1/1
Attractive layout with clear technical illustrations and explanations. New concepts highlighted.
Comprehensiveness - 0.95/1
Covers all key areas thoroughly - theory, technique, scales, chords, rhythm, reading. Ear training and sight-reading drills too.
Repertoire - 0.95/1
Emphasis on classical arrangements but well-rounded. Creative exercises and teacher duets.
Pacing - 1/1
Excellent progression from pre-reading through elementary playing. Every piece reinforces new skills.
Expansion - 1/1
176 pages offer 3-6 months of study. Part of a graded series with technique, theory, classical, and holiday supplements.
Overall Score: 4.9/5
On par with Alfred's, Faber offers adults a comprehensive piano curriculum in a step-by-step sequence. From pre-reading through basic classical tunes, the pacing and content are very well constructed for beginners to progress evenly.
The Best Piano Method Book - Summary and Recommendations
Given their nearly identical high scores on our impartial review, both Alfred's Basic Adult Piano Course and Faber's Adult Piano Adventures emerge as great choices for adult beginners. While their approaches differ slightly, they both deliver a full course.
Some key factors to consider:
Alfred's offers more contemporary music like pop, rock, and jazz if you prefer that repertoire. The pacing moves a little quicker as well.
Faber includes classical pieces and teacher duets. The pacing is gentler with more pre-reading exercises.
You can't go wrong with either, but consider which approach best fits your goals and learning preferences. Keep in mind no book can replace an instructor fully - consider supplementing with piano lessons where possible.
Beyond these books, steer clear of ultra-basic methods that focus too much on rote playing and auto-accompaniment. Seek out books that will teach strong technical skills, reading fluency, theory, and repertoire. With the proper foundation, you'll be equipped to continue advancing your musical journey on piano.
Additional Tips for Getting Started with Piano Lessons as an Adult
Learning to play piano as an adult learner can be immensely rewarding, but does require commitment and patience. Here are some additional tips beyond selecting the right method book to set yourself up for success:
Set Specific Goals
Having well-defined goals will keep you motivated. Do you want to learn a certain repertoire? Read music fluently? Play by ear? Outline what you aim to achieve.
Make Time to Practice Consistently
Like any skill, frequent repetition is key to progress. Schedule 30-60 minutes daily to practice if possible. Even 15-20 minutes daily is beneficial.
Supplement Your Book with Online Lessons
Consider using video lesson sites or apps to get instruction on technique. Viewing proper hand position and posture is very valuable.
Learn Proper Technique Right Away
Don't gloss over the technique fundamentals - hand shape, finger curvature, wrist height, etc. Good technique will make playing easier.
Patience and Persistence Are Key
Learning piano is a step-by-step process with occasional plateaus. Stick with it through challenges. Consistent practice leads to breakthroughs.
Perform for Others When Possible
Opportunities to play for others, even informally, provides motivation to keep learning. Share your progress.
Invest in a Teacher if You Can
While books are great for guided learning, a teacher helps identify and correct errors and provides personalized instruction. If you can afford some lessons, it's invaluable.
The Beginning Stages Are the Hardest
Don't get discouraged if you feel like a beginner for longer than expected. The initial learning curve is steep. But as skills accumulate, progress accelerates.
Choose Music You Enjoy
Learning is easier and more fun when you like the music. Pick repertoire that motivates you even if it's above your level at first.
Record Yourself
Listening back helps identify areas to improve. You can track your progress over time.
Be Patient and Celebrate Small Wins
Learning an instrument as an adult takes time and consistency. Celebrate small achievements along the way to keep motivated.
Summary
Learning piano from a book lays a solid foundation but has its limitations. Supplement with video lessons and in-person instruction where possible. Among the top-selling methods, Alfred's and Faber's both scored highly for their organization, pacing, and completeness.
Whichever book you choose, remember to set goals, practice regularly, and be patient with yourself. Learning piano takes time and consistency, but playing beautiful music makes the effort well worthwhile. With the right method book and dedication, you can progress far beyond your expectations.