Pianos
Loog Piano by Rafael Atijas: The Perfect Piano for Beginners?
Loog Piano, is a noteworthy addition to the world of portable digital pianos, offering a harmonious blend of simplicity and sophistication.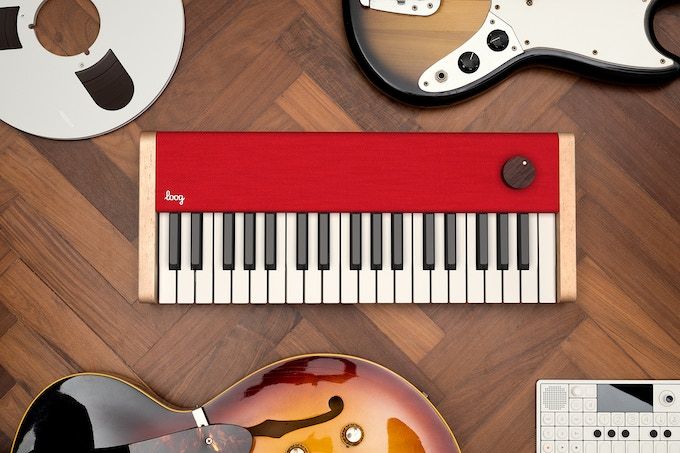 Loog Piano is a noteworthy addition to the world of portable digital pianos, offering a harmonious blend of simplicity and sophistication. Designed by Rafael Atijas, this musical gem targets both children and adults, promising a musician-grade experience in sound and design.
Project in Focus:
Titled "Loog Piano by Rafael Atijas", the campaign sets out to secure funds for a sleek, 3-octave digital piano that transcends the boundaries between age groups, delivering a professional-grade musical journey.
Campaign:
With an initial goal of US$ 10,000, the project has already garnered an impressive US$ 376,000+ from a community of 1,440+ backers, highlighting its widespread appeal. As the campaign unfolds, backers are offered various tiers, including an enticing Early Bird option at $229 for the first batch.
What is the Loog Piano?
The Loog Piano is not merely a musical instrument; it's a testament to sophisticated design and craftsmanship. Conceptualized by Rafael Atijas, this 3-octave digital piano embodies simplicity and sophistication in its sleek form.
Boasting 37 keys and weighing a mere 4.7 pounds, it merges portability with functionality. Built-in stereo speakers, a rechargeable battery, and a headphone connector enhance its portability, ensuring a seamless musical experience.
Musical Dynamics Redefined:
What sets the Loog Piano apart is its commitment to authenticity in piano dynamics. Unlike typical keyboards for children, it doesn't compromise on the quality of sound.
The keys are designed to allow for a nuanced play, mirroring the softness and intensity found in traditional pianos.
A Symphony of Features:
Accompanying the piano is a dedicated app offering lessons and engaging exercises. Adding a tactile learning dimension, Loog Piano also includes screen-free flashcards for chord and scale formation.
Pricing Strategies:
The campaign introduces strategic pricing tiers, with an Early Bird offer at $229, a Kickstarter price at $249, and a bundled option at $299, including a magnetic music stand, carrying case, and legs.
Anticipating Challenges:
The creators, backed by a history of successful Kickstarter campaigns, express confidence in overcoming potential challenges. Prototypes are ready, and the design is complete, underscoring a commitment to transparency.
In Retrospect:
As the fifth Kickstarter venture for Rafael Atijas, Loog Piano marks a continuation of a success story that began in 2010 with an academic project. With a trail of accomplishments, collaborations, and recognition, the campaign is not merely a funding endeavor but a celebration of community and musical innovation.
Key Takeaways
Loog Piano, a portable digital piano designed for children and adults, is currently seeking funding on Kickstarter. It offers musician-grade sound and design, with a focus on simplicity, quality materials, and an accompanying app for learning.
Summary
Product Highlights:

Description: Portable 3-octave digital piano with built-in speakers and battery.
Target Audience: Beginners of all ages and musicians seeking a professional-grade portable digital piano.
Differentiation:

Focus on realistic piano dynamics, allowing soft to loud playing.
Sound engine dedicated solely to piano sound for authenticity.
Sonically transparent fabric top for stereo sound projection.
Constructed from solid wood sourced responsibly.

Specifications:

Keys: 37 keys (3 octaves)
Dimensions: 18.92 inches x 7.5 inches x 2.71 inches
Weight: 4.7 pounds
Features: Built-in stereo speakers, rechargeable battery (3 hours life), USB-C, headphone connector.

Additional Components:

App: Accompanying app for lessons and game-like exercises.
Flashcards: Screen-free learning material for chords and scales.

Pricing and Rewards:

Early Bird: $229 (Limited quantity)
Kickstarter Price: $249 (20% off retail)
Bundle: $299 (includes magnetic music stand, carrying case, and legs)

Shipping and Timeline:

Delivery Estimates: March 2024 (for Early Bird backers), April 2024 (for others)
Shipping Charges: Not included in pledge, collected separately based on shipping location.

Environmental Commitments:

Emphasis on sustainable practices.
Responsible wood sourcing.

Closing Thoughts:

The Loog Piano represents the fifth Kickstarter campaign for the creators.
Demonstrated success with previous campaigns, recognition, and collaborations.
Confidence in meeting estimated delivery times.
This Kickstarter campaign aims to bring a well-designed and authentic musical experience to individuals of all ages, emphasizing quality, simplicity, and environmental responsibility.